Dear Parkview Parents, As we have all seen and heard by now, there has been a tragic event that has happened in Uvalde, Texas. This is a terrifying situation that we all hope and pray we will never have to experience here in our hometown. The point of this message is not meant to spark fear into the hearts and minds of my staff, students, and parents. Rather, this message is to serve as my commitment to you as a fellow parent and school leader: I will do everything in my power to keep our children safe from any harm. As we do during the regular year, all safety and security procedures for my staff and students will be followed. Any strange visitors or loiterers will be communicated to the office, and they will be greeted and questioned by myself. There will be regular contact between law enforcement and my staff, as we partner with them on events that will take place during summer school weekly. Students will be provided with an environment that is fun, welcoming, and free of fear. Danger is a reality that surrounds us everyday, and acknowledging it is the first step towards addressing it in a proactive way. WIth your support, I believe that we will be able to conduct summer school with minimal changes to any of the planned events. Please make plans to attend Open House on May 31st, as it makes the next morning go very smoothly during arrival time. The arrival and dismissal information will be shared during the open house and will be followed closely by myself and my staff. I will also be around for any additional questions. Sincerely, Derek Lannigan
Hello Parkview Families, As of Friday 5/20 Parkview Summer School had reached its capacity for this summer. This is the first time that this has happened, but we can only allow as many students to enroll as we have teachers to teach them. Currently we have 320+ students enrolled, which is amazing!!! Due to this wonderful milestone Mr. Lannigan had to shut down the enrollment form. If you signed your student up prior to that date(5/20), they ARE enrolled in summer school. Mr. Lannigan has posted class lists to the Parkview Bus Doors. Feel free to come up and view the class lists and find out who your summer school teacher will be. If you have any questions, please email Mr. Lannigan at
dlannigan@cameronschools.org
, or call 816-882-1051. Important Reminder: Open House will take place next Tuesday, May 31. It will run from 5 to 6 pm. This is a great time to walk your kiddos down to their classrooms, meet their summer school teacher, verify transportation and drop off addresses, pick up their summer school bags (which they will need to bring everyday for summer school), and meet some of their new classmates. Each year we have made it a priority to have a fun, exciting, and stress free summer here at Parkview Summer School, and this year will be no different. Keep an eye out for special event announcements, as they will include important information about what kids will need to wear the following day. If you have any interest in helping with our fishing outing at Hartell Lakes, make plans to volunteer on the day of June 17th. (Special Note: You should not be afraid of worms, hooks, fish, or kids if you plan to help this day.) A notification will be sent out closer to that time with instructions on how to get signed up for that fun outing.
Our last day of school is Thursday, May 19th, and we will dismiss early at the following times: ☀️ Early Buses - 12:05 pm ☀️ Car Riders - 12:10 pm ☀️ Bus Riders - 12:15 pm Thank you for a wonderful school year! Information about registration for the 2022-2023 school year and back-to-school information will be shared soon! We hope you have a great summer!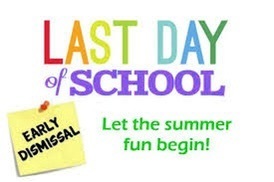 Congratulations to the Cameron R-I Class of 2022! So many great kids here to celebrate. 🖤💛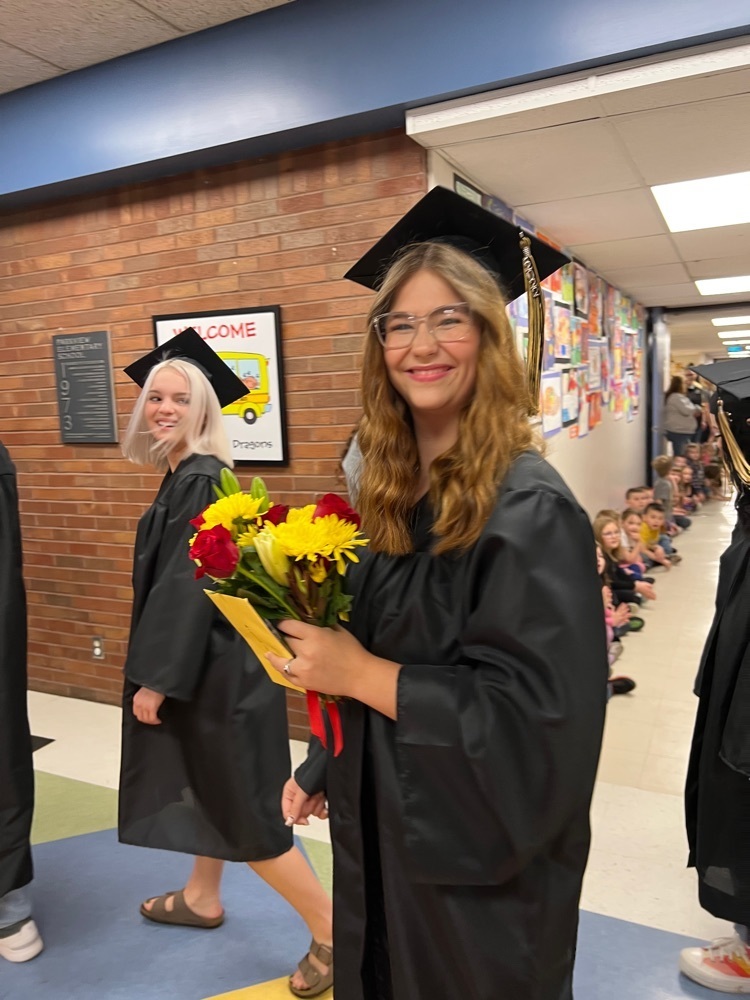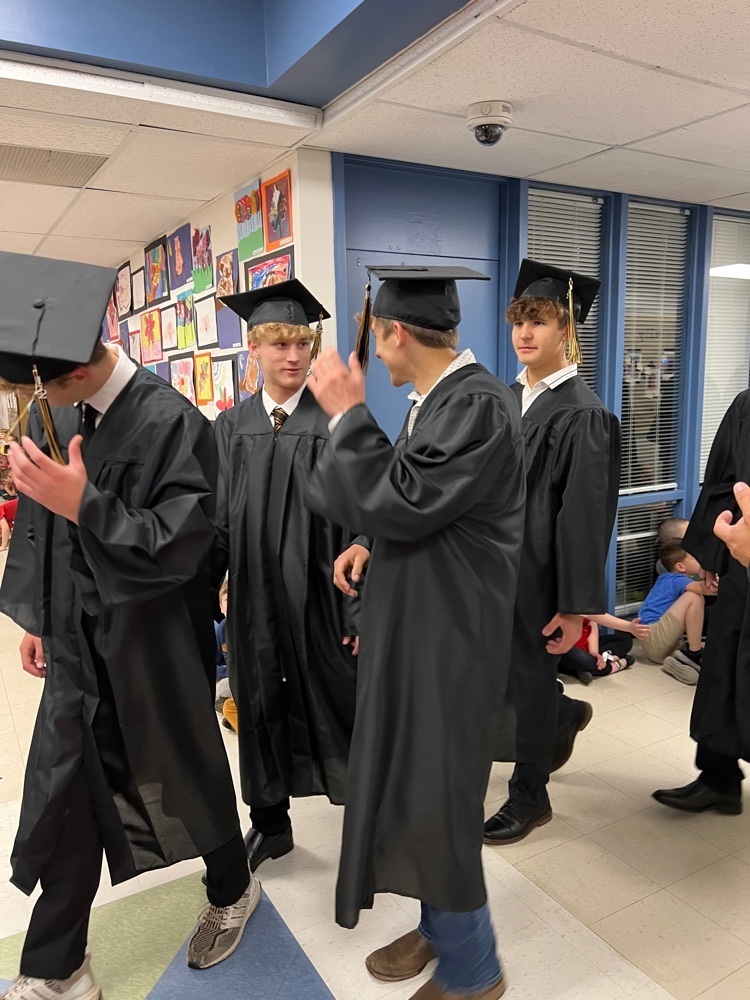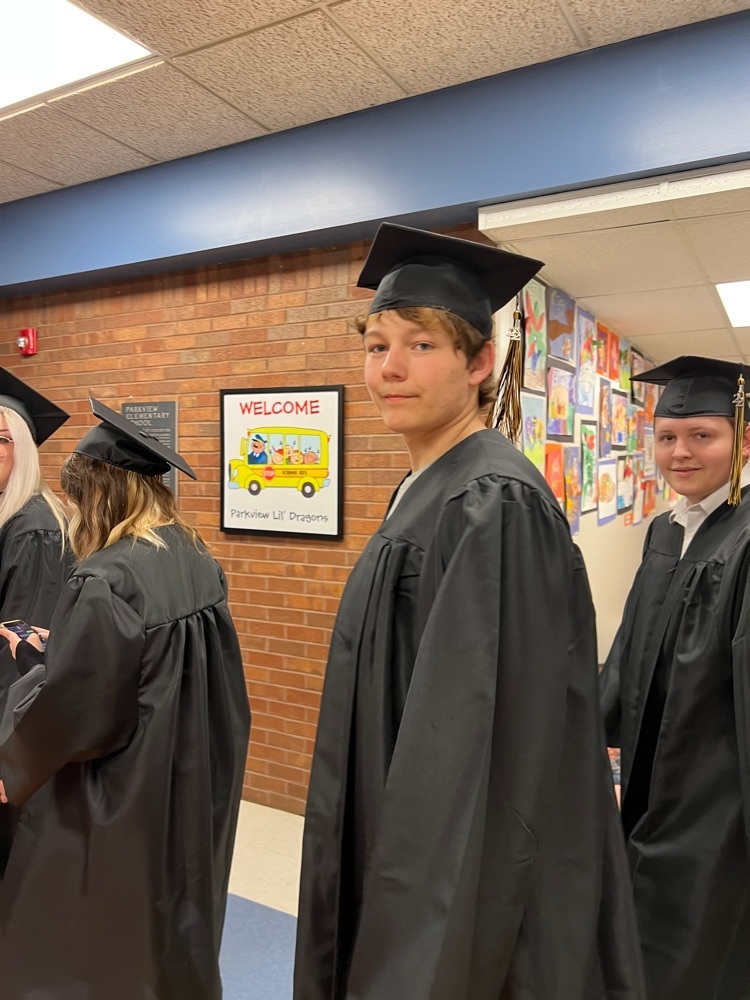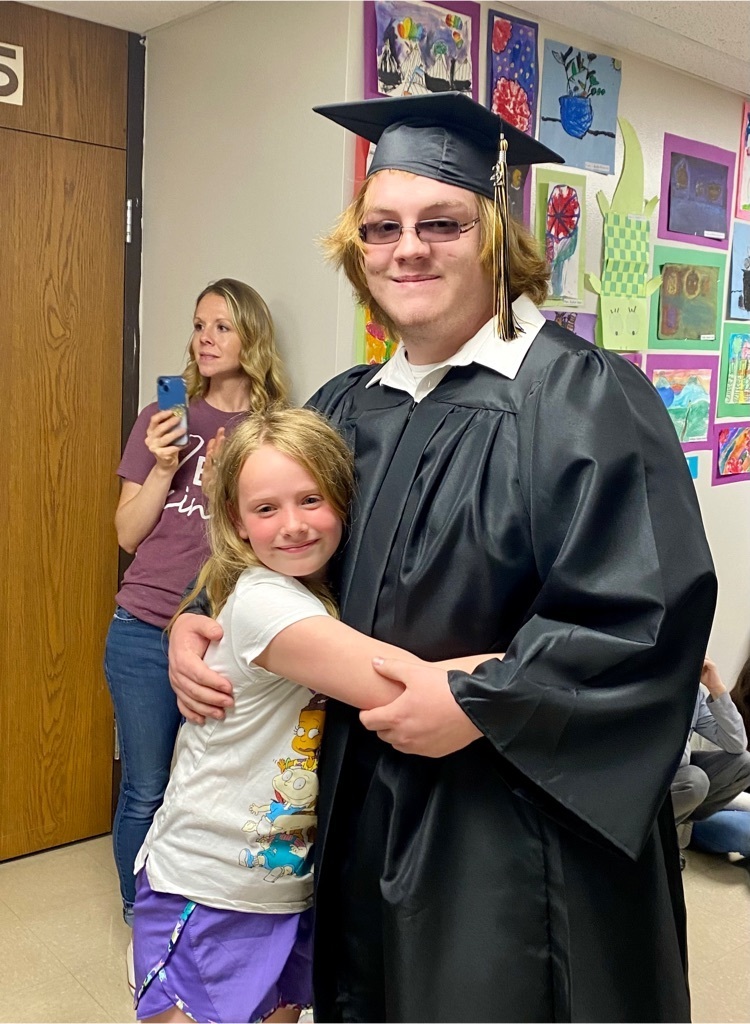 Thank you to the City of Cameron workers for braving the gloomy weather to educate our K-2 classes about their class trees. Our classes always enjoy this traditional outing! 🌳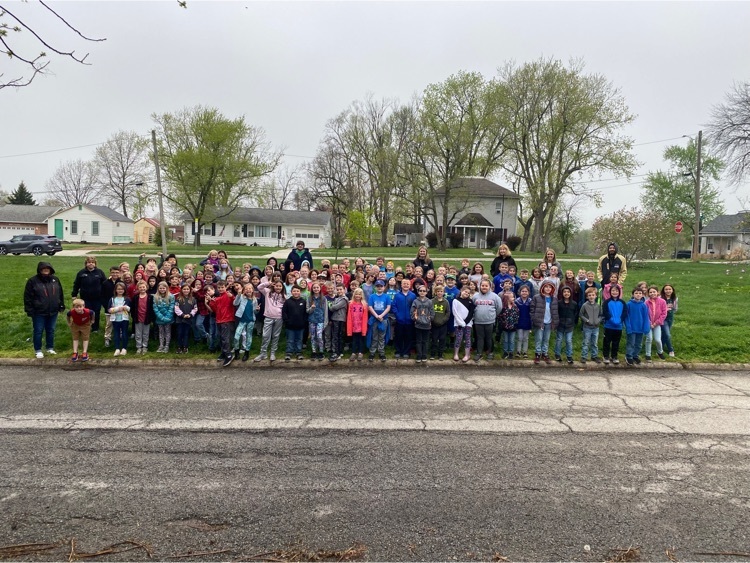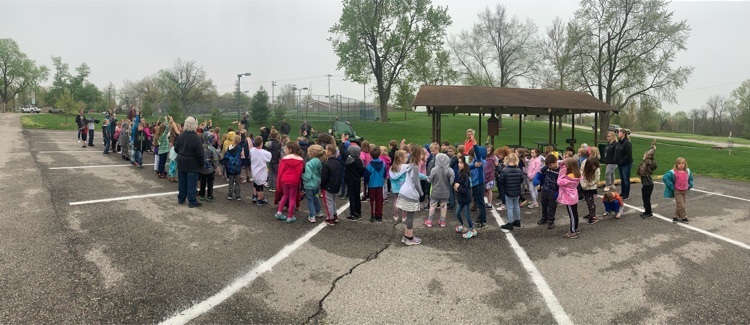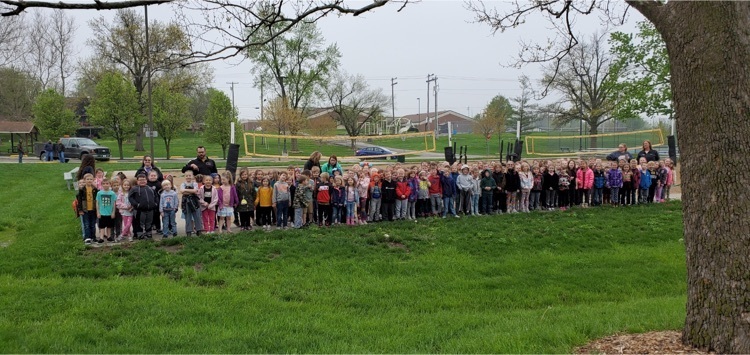 Thank you to everyone who attended PV's Art Walk tonight! Mrs. Bogle and our students provided a lot of great work to admire. 🧑‍🎨 🎨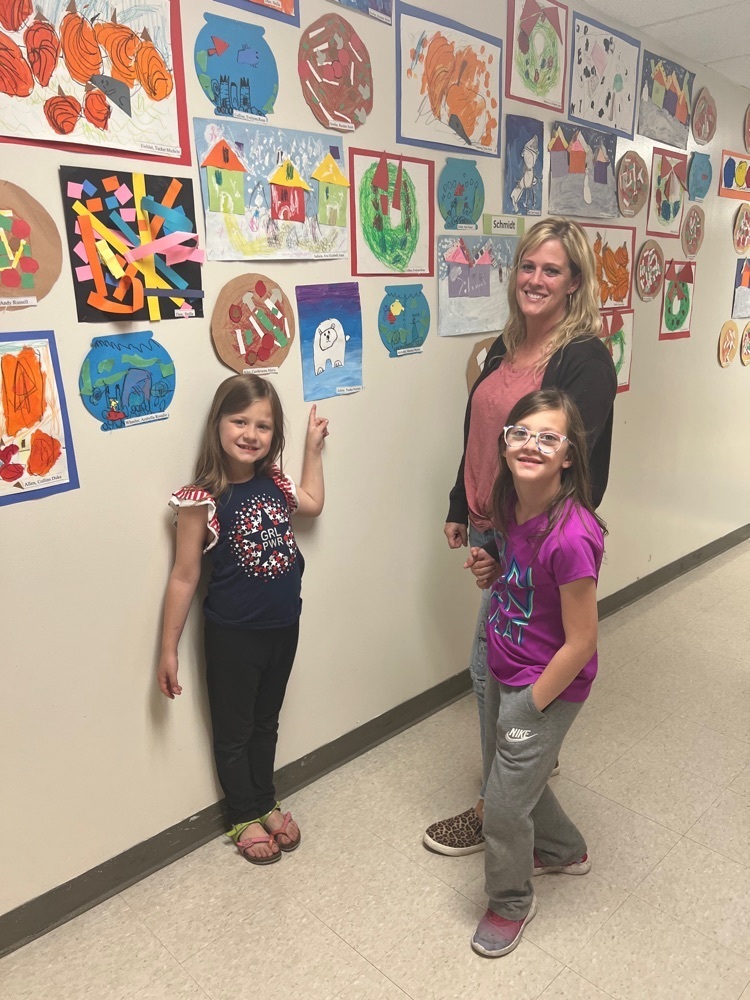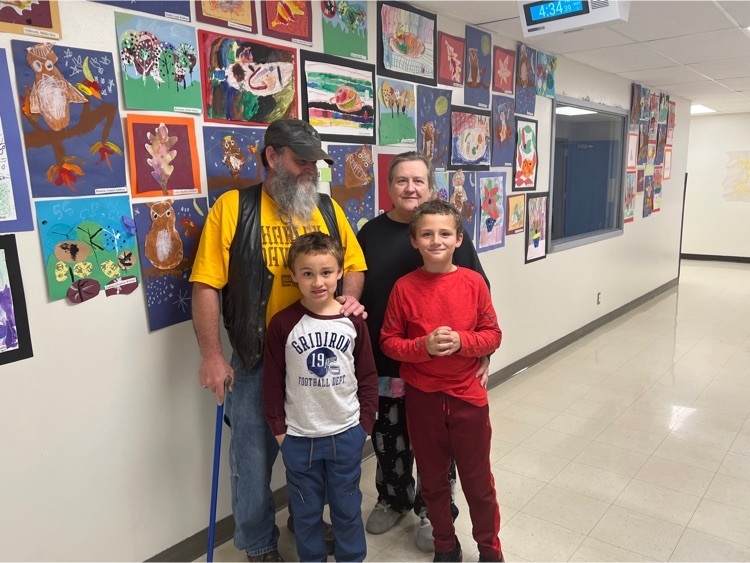 Don't forget…Tonight is our 2nd grade musical! The show will begin at 6 pm in the gym at Cameron Intermediate School; doors open at 5:30 pm! See you there!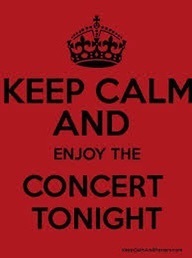 Being a bucket filler requires consistent effort and perseverance. We are quite proud of all our students at Parkview and are especially grateful for the dedication shown by our April Bucket Fillers of the Month! 🥰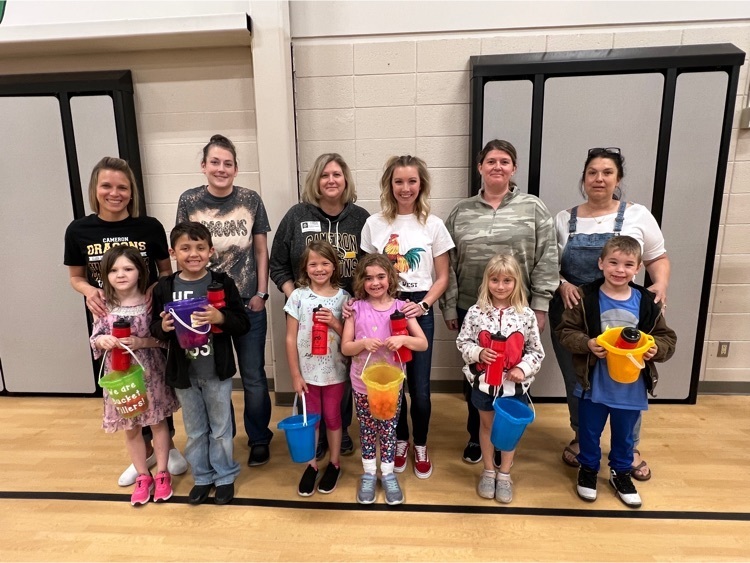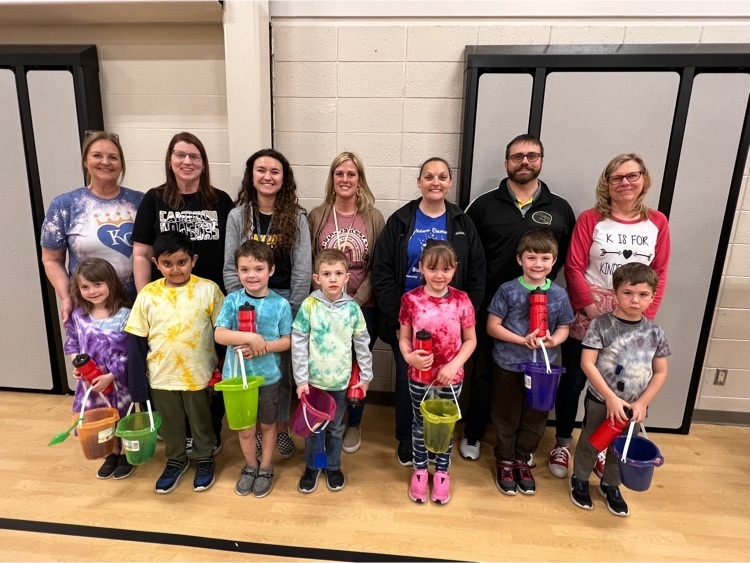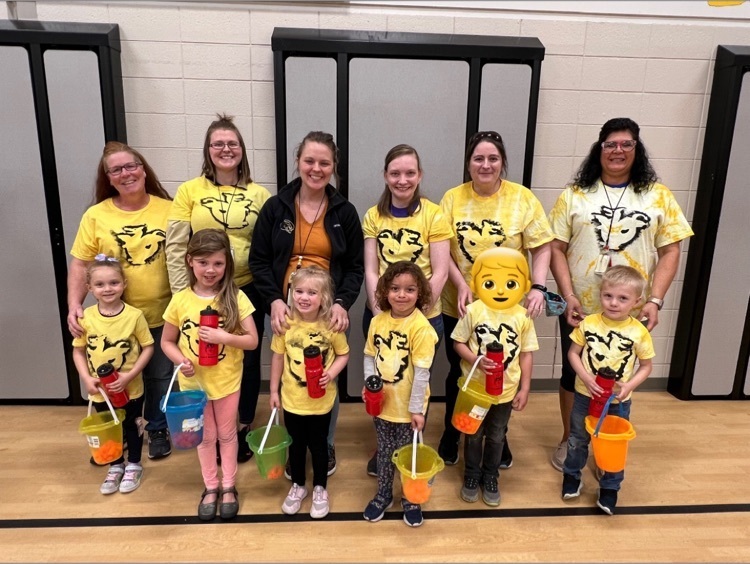 Please join us via Zoom for Cameron R-1's Spring 2022 Title Meeting on May 3, 2022, at 10:00 AM.
https://us02web.zoom.us/j/86966606297
... Meeting ID: 869 6660 6297 Passcode: u7Pgpx Mark your calendars and join us to hear academic program updates from principals at Parkview and Cameron Intermediate School and provide helpful feedback to enhance the educational experience for your children.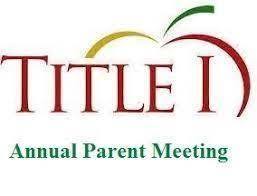 It's time for our annual Title survey! Please help our program reach its greatest potential by completing this quick online survey. Thank you for your feedback!
https://forms.gle/JY5ACrVBvcwZgLeU8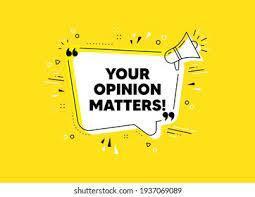 Art Walk 2022 May 5 CHS: 5-7 pm CVMS: 5:30 -7:30 pm CIS: 5-7 pm Parkview: 3-5 pm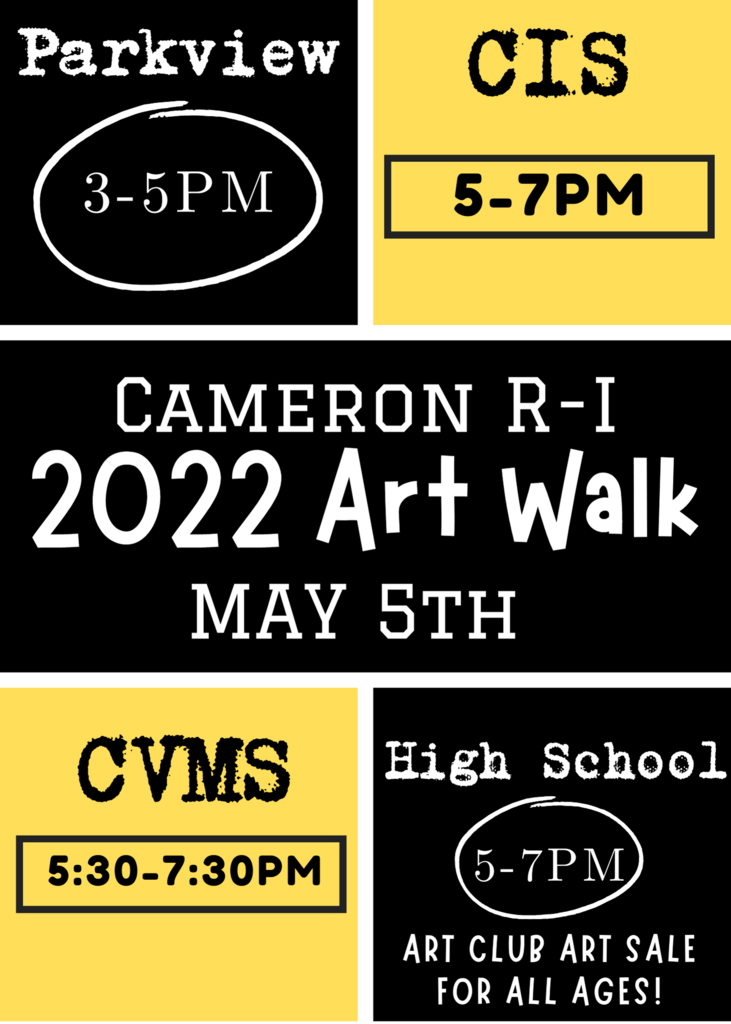 What's the best way to celebrate the end of a pandemic and the culmination of your years at Parkview? Go on an epic first field trip! Thanks to our 2nd Grade Tribe for a wonderful day! 🚌 ⛸🐾🦣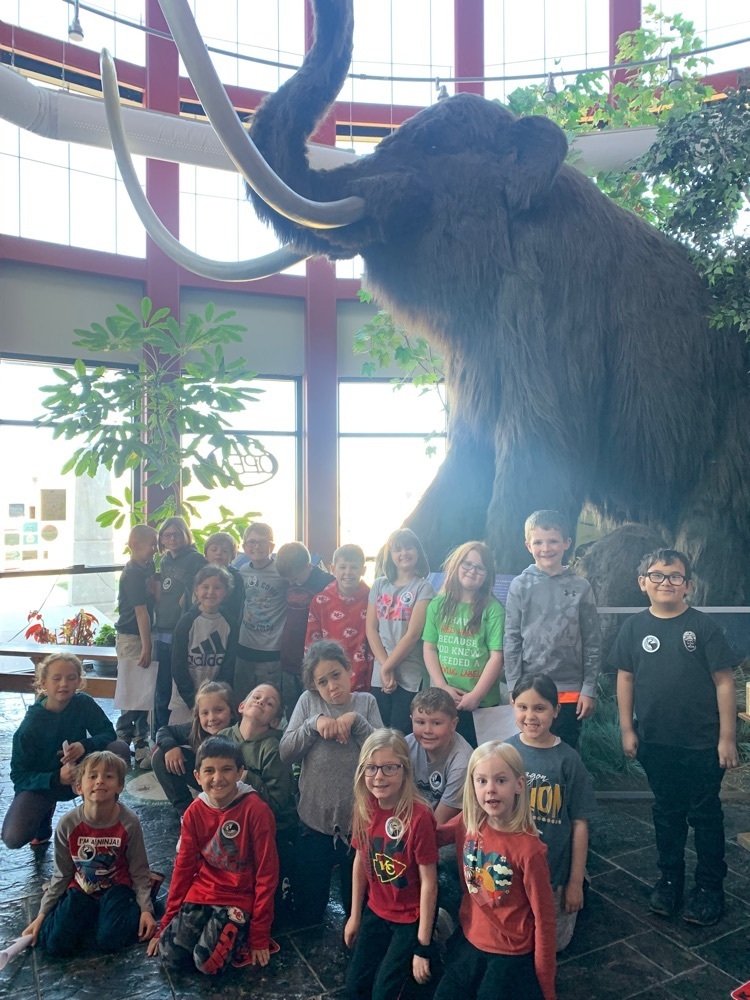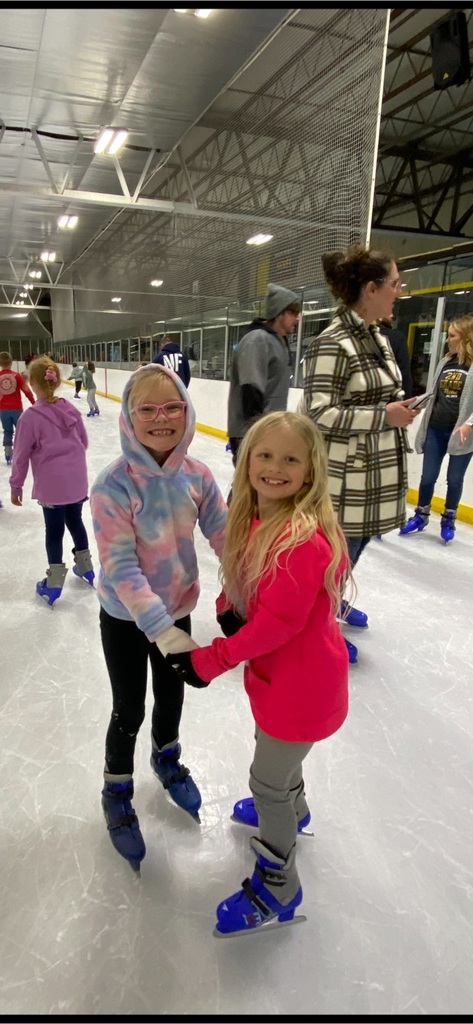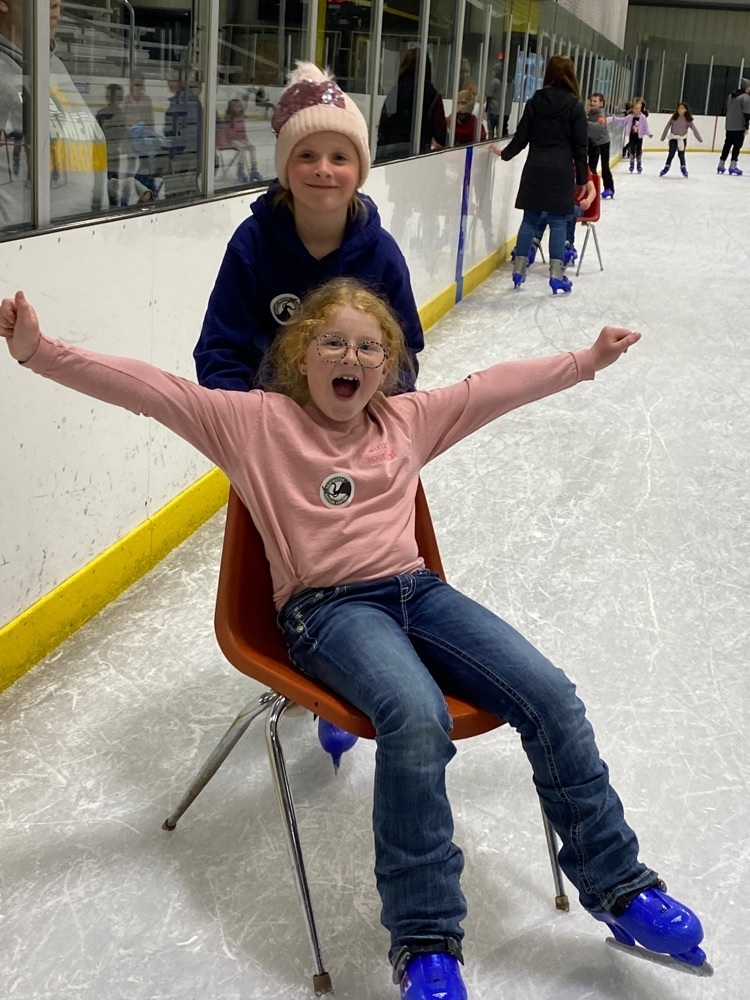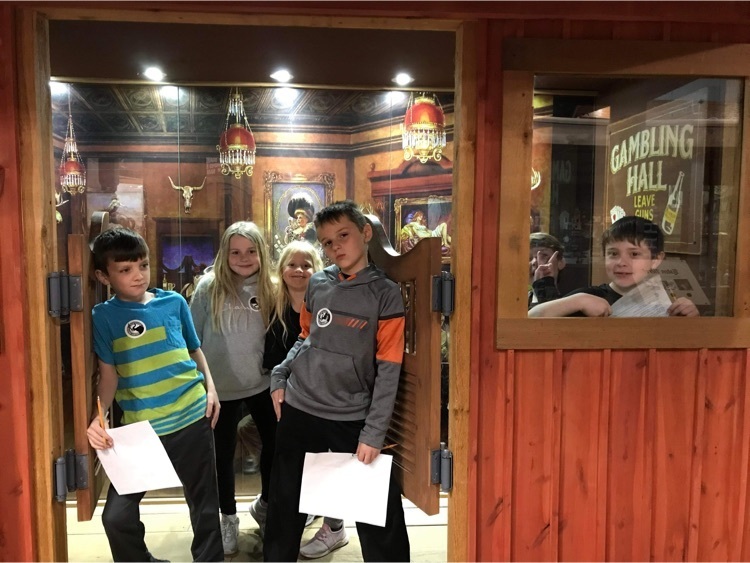 With only 26 days of school left, it's time to start thinking about next year! What better way than to share the 2022-2023 Parkview School Supply List.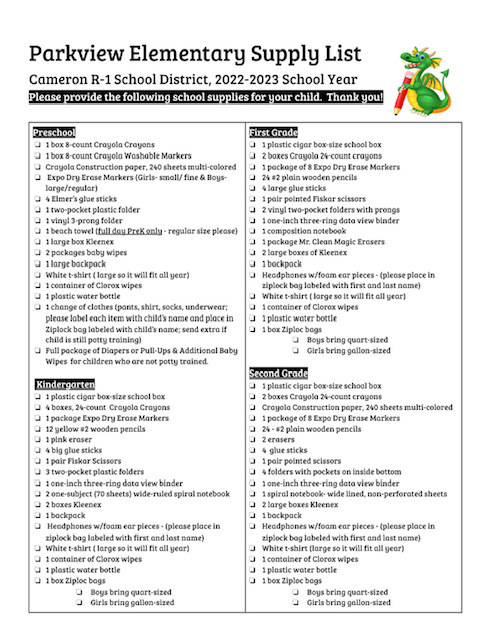 PARKVIEW FIELD TRIP VOLUNTEER REQUIREMENTS Good evening, Parents! Parkview is excited to provide K-2 students with field trips again this year. Students greatly benefit from these outings and make long-lasting memories. We appreciate all who volunteer to assist us in providing this worthwhile experience. Due to Missouri legislative requirements, Cameron R-I requires all adults working or volunteering with children at school to complete a background check. Field trips are no exception to this rule. It is not feasible to ask all participating parents to complete an official background check prior to a field trip. Due to this, parents supervising groups must stay with the classroom teacher throughout the duration of the field trip and cannot take groups of children off on their own. To ensure the accountability of volunteers and the safety of our children, the district requires all participating parents to complete enrollment in our Raptor Visitor Management System to ensure that everyone attending is in good standing and our children are safe. The Raptor System screens for sex offenders and criminal custodial issues simply by running your state-licensed ID or driver's license. This system will print an ID badge for the parent to wear on the field trip for clear identification and added safety. I'm happy to report that this process is very simple; it's quick and easy to register! In fact, the Raptor System's entire process only takes about two minutes to complete. Simply stop by the office on any school day from 7:15 am - 3:30 pm between now and the date of your child's field trip. Parents who are unable or unwilling to complete the Raptor system enrollment will not be able to supervise a group on the field trip. If you are already registered in the system, you do not need to reregister. Thank you for your understanding and cooperation with this requirement. We appreciate everyone's support in keeping our children safe and look forward to having a lot of fun on our trips! Please contact me with any questions at
aormsby@cameronschools.org
or 816-882-1051. Sincerely, Ms. Angie Ormsby Parkview Principal RE:
https://revisor.mo.gov/main/OneSection.aspx?section=168.133#BOTTOM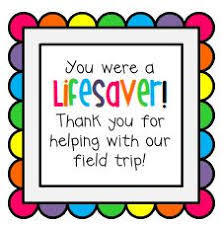 Free MOCHIP Child Id Event April 9th 10 am - 2 pm Cameron YMCA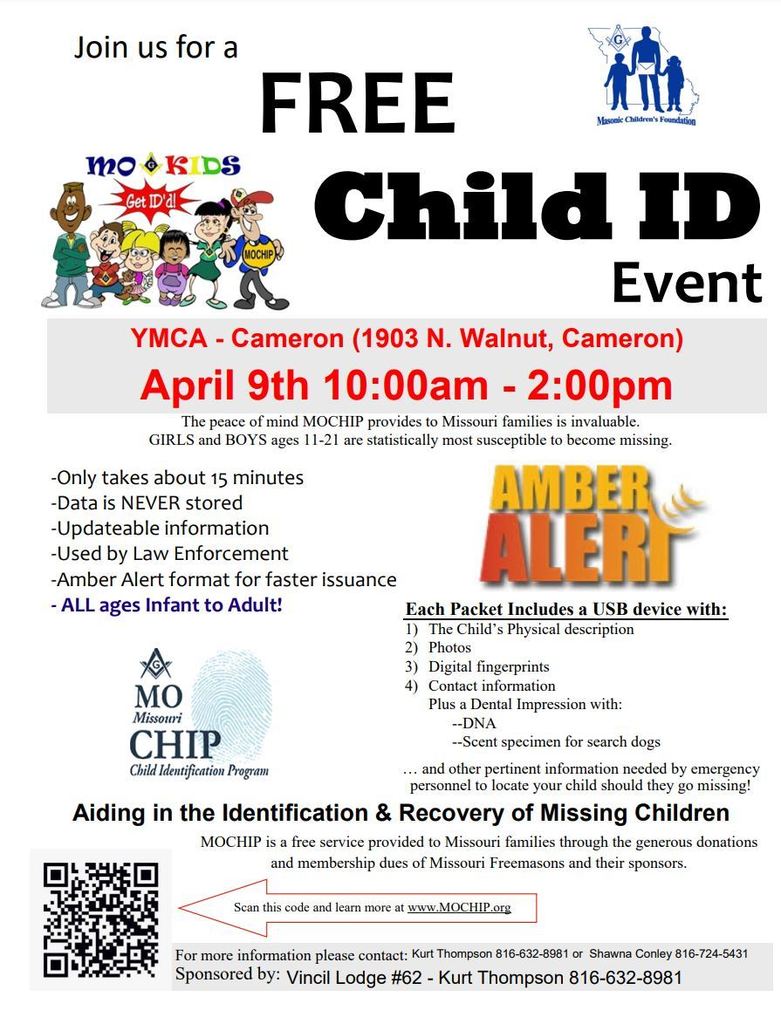 Cameron staff supported Autism Awareness month by wearing "Advocate" t-shirts made by students at CIS! #autismawareness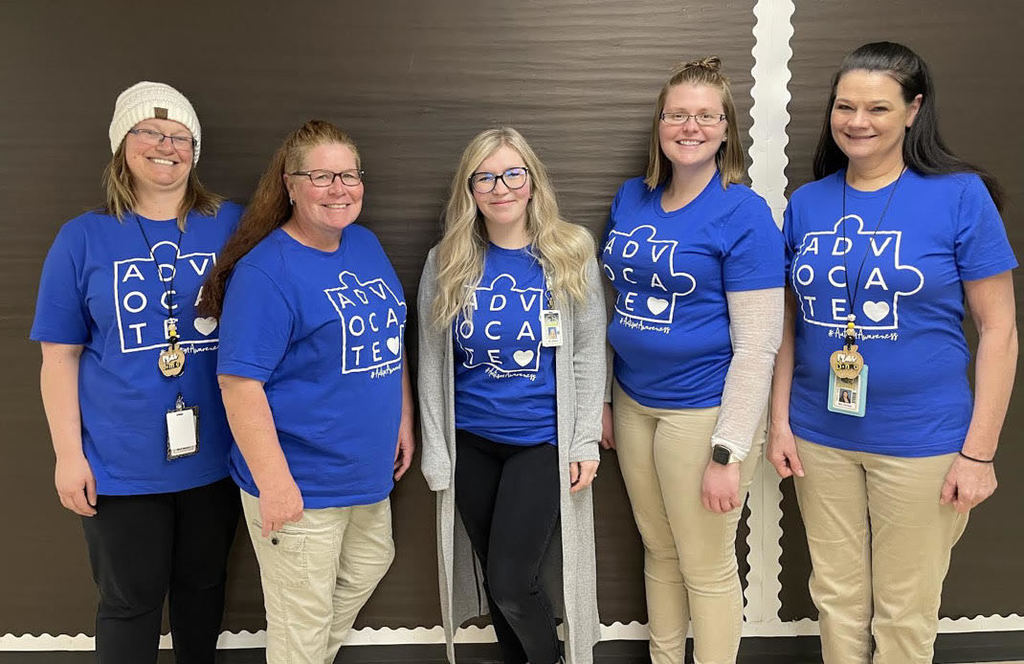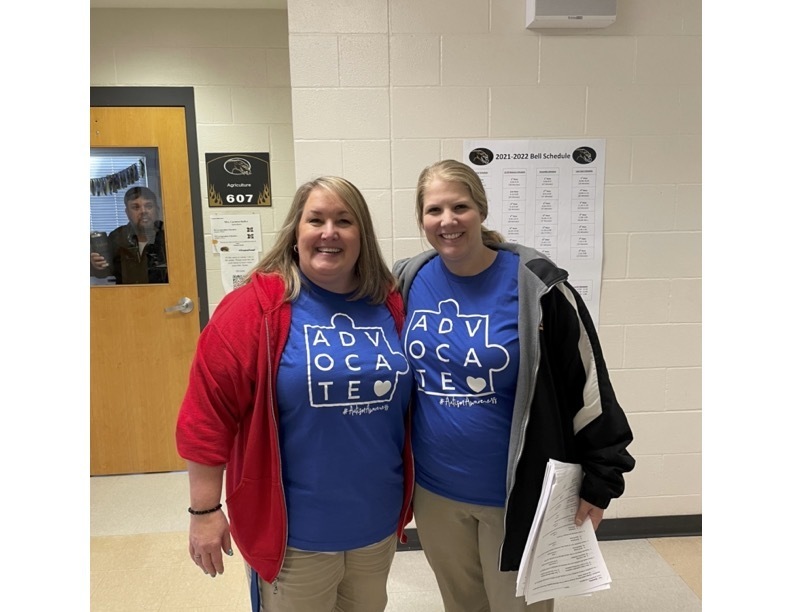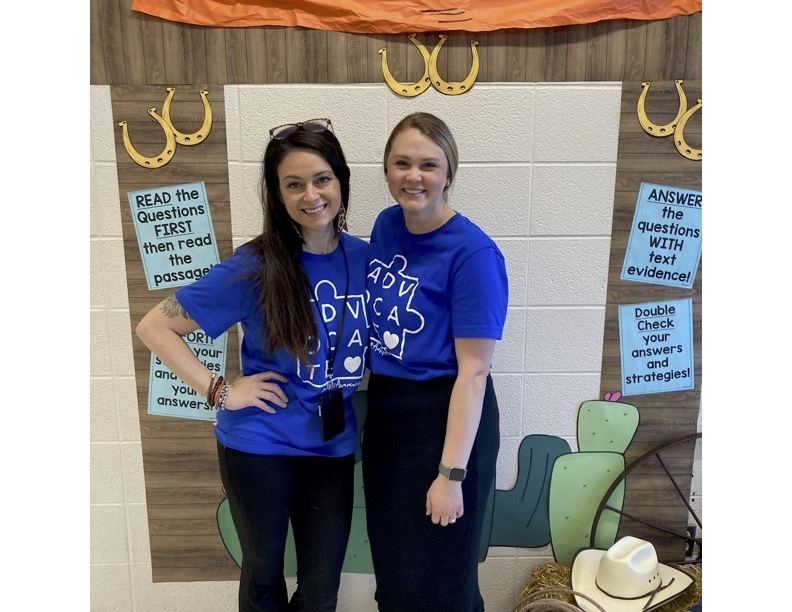 The CIS/PV Title Night event "Run the Bases" will be held inside CIS's gym and commons tomorrow evening (3/31/22) due to the cool temperatures. Please join us from 5-6:30 pm for a fun-filled time!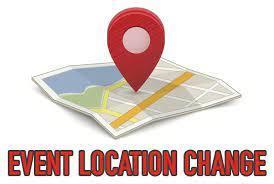 Free MOCHIP Child Id Event April 9th 10 am - 2 pm Cameron YMCA