Parkview Summer School: Just a reminder, today is the last day of summer school. We will be releasing at the regular time. Student summer school checks will be available for pickup at Cameron Intermediate School beginning at 3:00 and ending at 5:00pm. Any checks that have not been picked up by then will be returned to Central Office, and can be picked up during regular office hours.
Parkview Summer School: Movie Day We will be staying at Parkview to watch our movie tomorrow. We will be popping popcorn and watching the movie in the cafeteria. Also, Tuesday, June 29th is the final day of summer school. Mr Lannigan will be at Cameron Intermediate School (915 S. Park St.) from 3:00 to 5:00pm to hand out checks for Summer School attendance. Attendance awards are as follows: 100% = $100 less than 1 day absent = $75 less than 2 days absent = $50 Again, attendance is counted by the minute, so tardies and having to leave school early will affect incentive amounts. Thank you for sending your child to Summer School! In spite of a lot of rain, we had a good time. Enjoy the rest of your summer, and we'll see you in August.
Parkview Summer School: Due to the amount of rain we have received the last few days, and the rain that is coming tonight and tomorrow morning, the water slide day will not take place tomorrow, Monday, June 28th. We will have some fun activities planned inside for the students in place of the water slide. Prize drawings will be held in the morning starting at 8am. Students must be in attendance in order to receive a prize if their name is drawn. If your student wins a prize, you will be contacted in order to arrange a time for someone to come and pick up the prize on Tuesday during the day. If for some reason we have transportation issues due to weather, the prize drawing may be moved to a later time, but prizes will be drawn by the end of the day on Monday.
Due to the pending storms over night, Parkview Summer School will be moving the water slide day to Monday 6/28. The weather will hopefully clear up by then. Information for the water slide day will be posted by the end of the day Friday, and a note will be sent home with your student(s).
Parkview Summer School will be having the water fight with law enforcement tomorrow. Please have your kiddo brig a towel and wear swim trunks or swim suits under their regular clothes. If possible, please have them also wear flip folps, slides, or sandles to school as well, so they can easily slide them on and off. We have tried to schedule everything to happen after the storms are scheduled to move on. Weather is unpredictable, so if the storm sticks around longer. The event may have to be canceled last minute.
A Look At the Week Ahead Thursday: Water Balloon Fight with Law Enforcement Students will need to wear something that they will not mind getting wet in. They will have a water balloon fight with area law enforcement, followed by a ice cream social. Students are welcome to wear swim trunks and swim suits for the short water fight, but will not be changing clothes afterwards. Girls wearing swim suits need to have a shirt and shorts they can put on over the suit following the event. Please send a towel for a quick dry off. Friday: Water Slide in Front of Parkview Students will need to wear swim suits to school on this day. There will be a water slide set up on the hill in front of Parkview. There will also be other water games occuring at the same time. Please apply sun screen prior to sending your student to school on friday. Students will need to bring a towel and a change of clothes for after the event. Both of these events will be depending on the weather. Any changes that may occur due to weather will be communicated as soon as possible. If Friday's event gets rained out, it will be moved to Monday. Thursday's event will just be canceled if it rains.
PARKVIEW SUMMER SCHOOL Hello Parents, On Friday, June 18th, Parkview students will be going on a fishing trip over to Hartell Conservation Area, which is 20 miles Southwest of Cameron off Hwy 33. This location is maintained by the Missouri Department of Conservation, and is a beautiful spot to walk, fish, and enjoy the amazing outdoors. The MDC will be providing fishing poles and they will be showing off different fish to our students while we are there. For those of you that have volunteered to help with the event, THANK YOU!!! I will be having you helping with the fishing area. For many of our kids, this may be their first go at fishing, so I will be relying on you to help with baiting hooks, casting lines, and releasing fish after they are caught. The fishing area has a concrete sidewalk along the banks that we will be fishing, so getting to the area is very easy. A large majority of the fish that will be caught will be smaller fish, so you may want to bring a pair of needle nose pliers to help get the hooks out. Also, I would plan to get to Hartell 10 minutes before the busses show up for your session so Mr. Lannigan can show you where to go. Schedule: Kindergarten/1st Grade: will leave Cameron at 8:30 and arrive at Hartell by 9. They will fish/hike/snack from 9-10:30, then they will head back to school. 2nd/3rd Grade/Mrs. Feiden's 1st Grade Class: will leave Cameron at 10 and arrive at Hartell by 10:30. They will fish/hike/eat lunch from 10:30 - 12:00, then they will head back to school. Directions: The easiest route to take is to take Hwy 36 west 8 Miles to Hwy 33, and then follow Hwy 33, 11 Miles South to the Hartel Lakes Dam. Turn left on NE 280th Street and then you will see a sign on the left directing you in. Once you are in the conservation area, you may park in the parking area behind the dumpsters, or you can take the first left and park along the main drive leading to the shelter house. Mr. Lannigan will meet you at the shelter house. If you have any questions, please reach out to Mr. Lannigan.
dlannigan@cameronschools.org
Parkview Summer School Open house Dear Parents, Parkview Summer School will begin on Wednesday, June 2nd. Our hours are from 7:30 to 2:15. Open House for Kindergartners, and students new to our district, will be held on Tuesday, June 2nd from 5:00 - 6:00pm. Please review the following information to ensure your child's experience at summer school is successful: Open House information
https://docs.google.com/document/d/1CXASyCMS1J4JnPt9A1RG4NXwGa8cy6mThTD0v_ePSDc/edit?usp=sharing
Lunch/Breakfast Menu
https://drive.google.com/file/d/191OqPLgjlRgDyJ8LLU4mmqj_ArZfvK32/view?usp=sharing
Class rosters will be posted in the entry way to the bus doors after 3:00 pm Friday. Feel free to come up and take a look at who your student will be with for the next 4 weeks. ( If you do not see your child on a class list please message Mr. Lannigan right away, and he will get you an enrollment form) Our goal for our students during summer school is to enjoy being around their friends and teachers, and to reduce the amount of regression that happens over the summer months. Summer school is not required, but it has many great benefits for those that attend. Remember, money incentive are based on attendance, and attendance is counted by the minute, so please make every effort to have your student to school on time. Who's ready to have a blast learning about this great nation we call home?!?!?!?!? We can't wait to see everyone in a week. Thank you, Mr. Lannigan and Staff
dlannigan@cameronschools.org

This year Cameron students, Maclin Limb, Helena Henry, and Jordan Simpson had their artwork submitted to the MAEA Youth Art Month Exhibition with Maclin's artwork receiving an award. Way to go Dragons!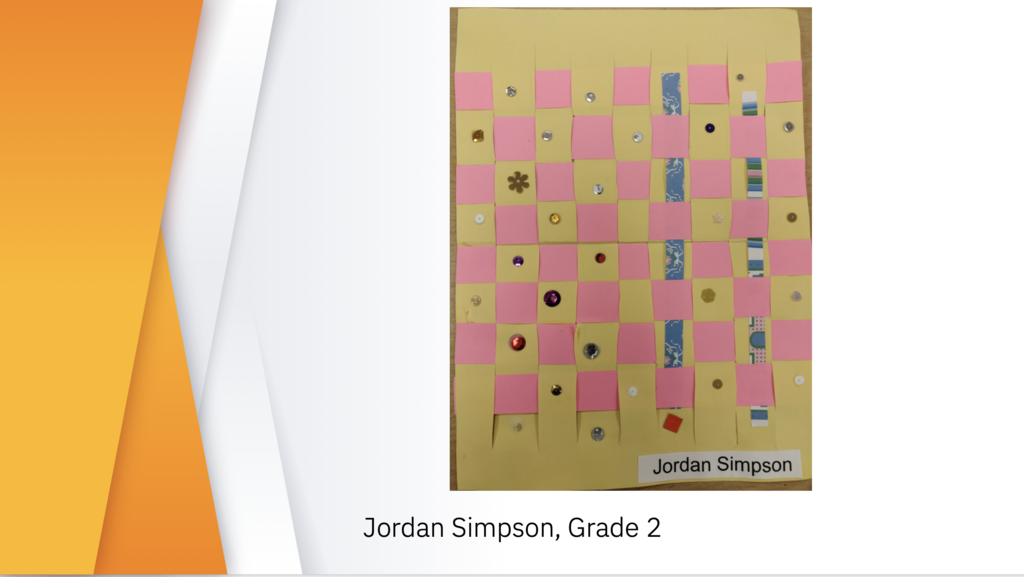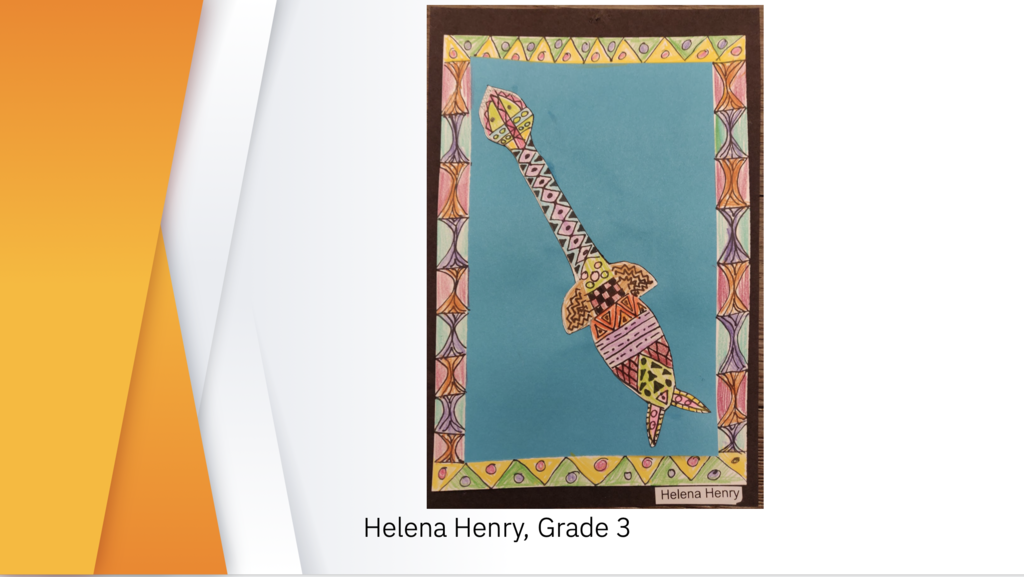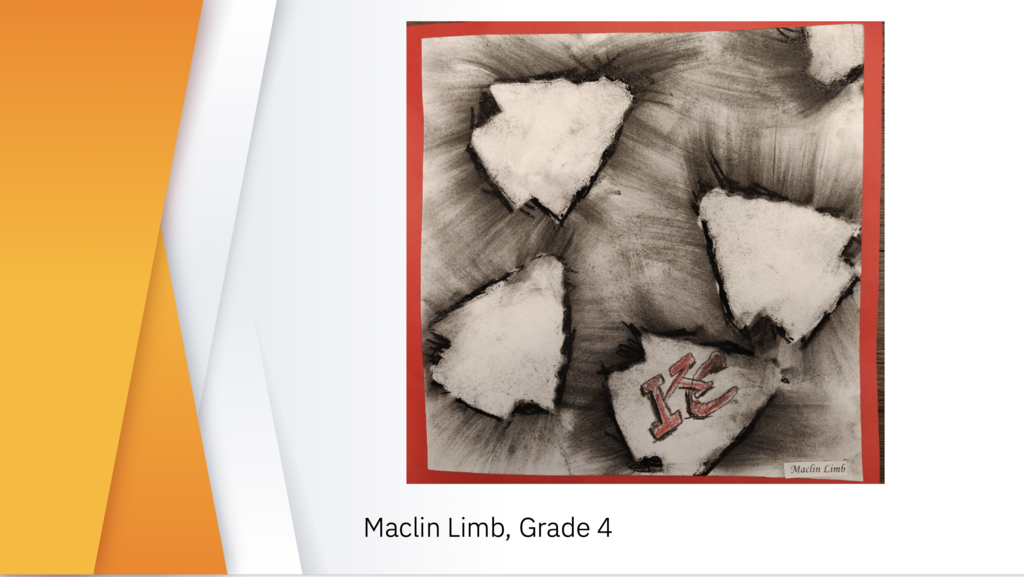 Dear Parents: We are almost to summer, and it is time to register for Summer School. In the link listed below, you will find the enrollment form to get your child signed up to attend the 2021 Summer School session. Cameron School District will return to its regular 4-week session with every student being able to attend all four weeks. At this time, face masks are still required to be worn when inside and in situations where social distancing cannot be maintained. Students are encouraged to bring a personal water bottle for use throughout the day. Parkview Summer School: Incoming Kindergarten - 3rd Grade: June 2nd - 29th Summer School Open House (incoming Kindergartners & students new to the district only) - June 1st (More details to follow) Hours of Operation: Buildings will be open at 7:15 am. Please do not drop students off prior to this time due to safety reasons. School will start at 7:30 am and will be in session until 2:15 pm. Attendance: The attendance incentive will be $100 for 100% attendance, $75 for less than one day of absence, $50 for less than 2 days of absence. Important Note: Summer school attendance is counted by the minute, so every minute counts. Please make arrangements to have your child at school and in the building on time. Students arriving after 7:30 will be counted tardy. Food Service: Breakfast and lunch will be provided to all students free of charge. Summer School Enrollment: Please click on the following link to enroll in Parkview Summer School. We are very excited to have your child attend as this is a great way to meet new teachers, learn the routine of the building, grow as a learner, and reduce learning loss . Hope to see everyone's bright and smiling faces throughout June! Just give me a call or send me an email if you have any questions. ENROLLMENT FORM Sincerely, Mr. Derek Lannigan Summer School Principal, Grades K-3
dlannigan@cameronschools.org
Just a reminder that we will not have school on Friday, April 2nd, or on Monday, April 5th. We hope you have a great weekend. Happy Easter!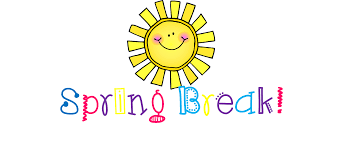 Only 4 available screening spots left for tomorrow! Call now!!!!! To schedule an appointment, please call 816-882-1035.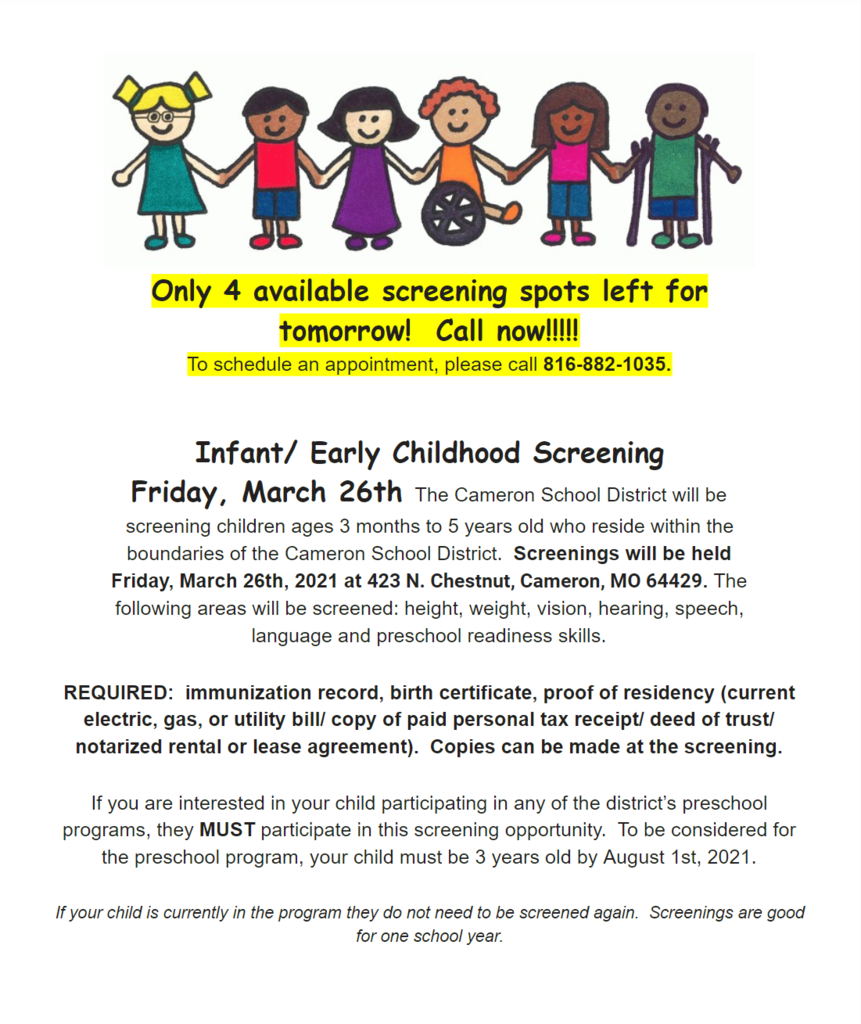 Preschool Screening Friday, March 26th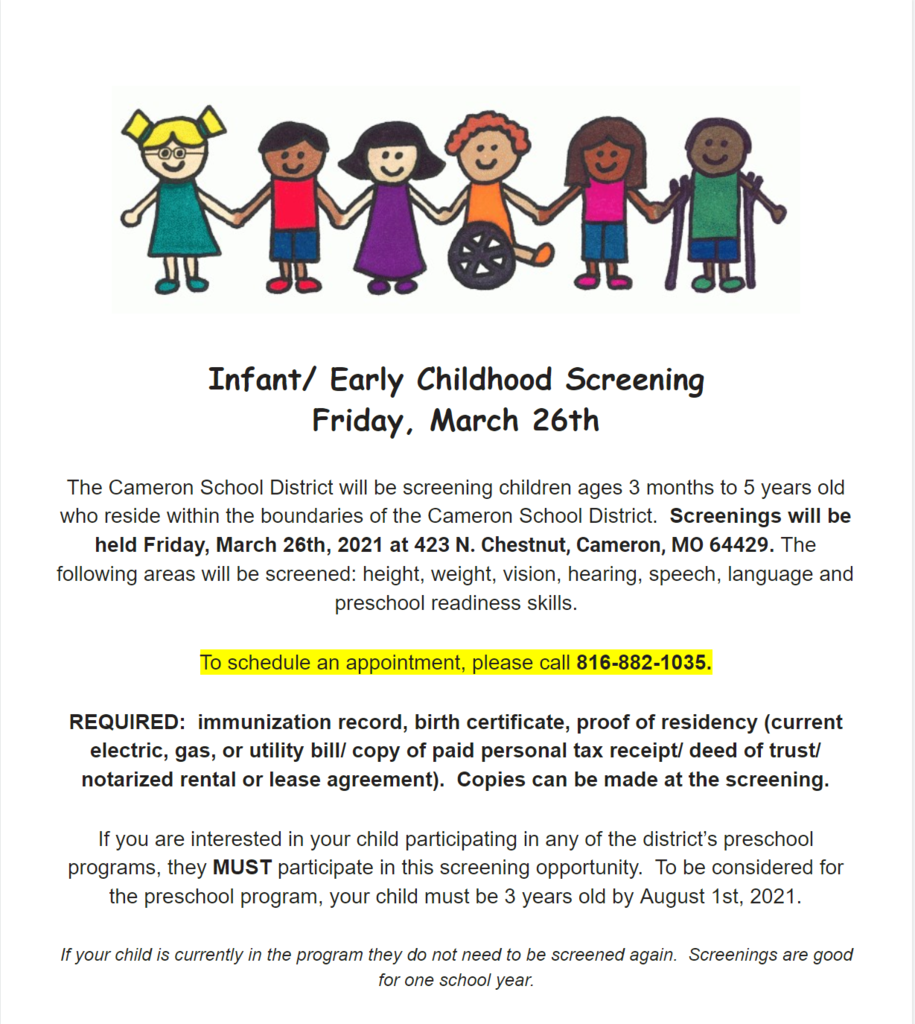 Hello, PV Family! Just a note with a few reminders: ✴ No school on Thursday & Friday, 3/18 & 3/19. ✴ Parent-Teacher Conferences will be held tomorrow, 3/18/21 from 10 am - 8 pm. If you still need an appointment, please contact your child's teacher or call the office at 816-882-1051. ✴ Grade cards will be coming home in backpacks next Wednesday, March 24th. We hope to visit with you tomorrow via phone conference! Have a great weekend!
Don't forget that tomorrow is Pajama Day at Parkview!
"Read Across America Week" is next week! We are excited to celebrate reading with dress-up days! Check it out... ☺️📚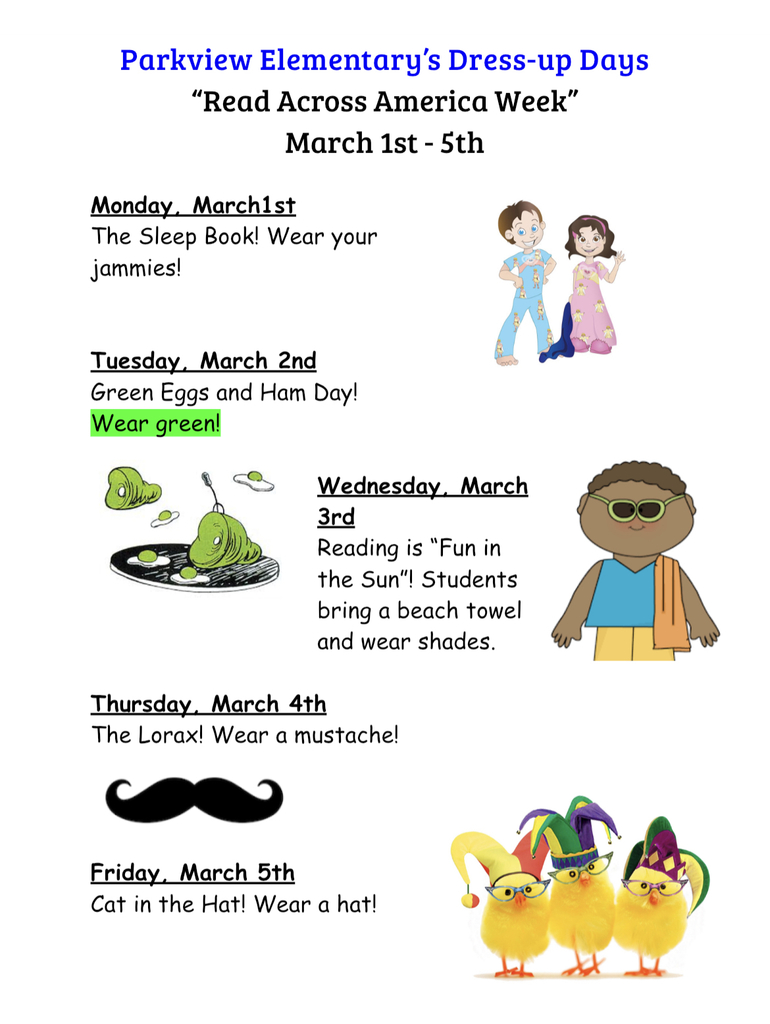 PV: No school again today, Wednesday, February 17th. We will celebrate Valentine's Day when we return on Thursday. ❄️⛄️❄️
PV: No school again tomorrow, Tuesday, February 16th. We will celebrate Valentine's Day when we return on Wednesday. 🥶💙