The Cameron School District has an immediate opening for a paraprofessional position. Applicants should have 60 college hours or be willing to take the MEGA (Missouri Educator Gateway Assessment) assessment for paraprofessionals upon hire. The goal of this position is to assist the teacher to achieve teaching objectives by working with individual students or small groups. To establish good relationships with students and with staff members and to assist with helping students achieve skills. To Apply: please go to
www.cameron.k12.mo.us
and click on "Menu" then under Employment, click "Current Openings" and complete the online application.

The Cameron R-1 School District is seeking a dynamic educator with primary teaching experience to serve as a Kindergarten classroom instructor at Parkview Elementary. The candidate must be a team player, have strong classroom management, and be knowledgeable of the Missouri Learning Standards and best practices for implementation of teaching strategies. This position requires a valid teaching certificate in the state of Missouri with preference given to those with Early Childhood Certification. Interested candidates should apply through the district application portal, and provide their application, resume, and a copy of a valid teaching certificate. To Apply: please go to
www.cameron.k12.mo.us
and click on "Menu" then under Employment, click "Current Openings" and complete the online application.

All of the CVMS vs. Trenton games on 12/17 will be held in Cameron starting with 7th Grade Girls A at 4:30 pm.

The Cameron School District has an immediate opening for a paraprofessional position. Applicants should have 60 college hours or be willing to take the MEGA (Missouri Educator Gateway Assessment) assessment for paraprofessionals upon hire. The goal of this position is to assist the teacher to achieve teaching objectives by working with individual students or small groups. To establish good relationships with students and with staff members and to assist with helping students achieve skills. Apply online at
https://cameronr1.tedk12.com/hire/ViewJob.aspx?JobID=2318

If you selected December 16th as the first snow day for Cameron R-I School District, you were right! Due to inclement weather, Cameron R-I School will not be in session tomorrow. Please stay safe and warm.
Support Cameron Special Olympics at McTeacher's Night from 4-7 PM.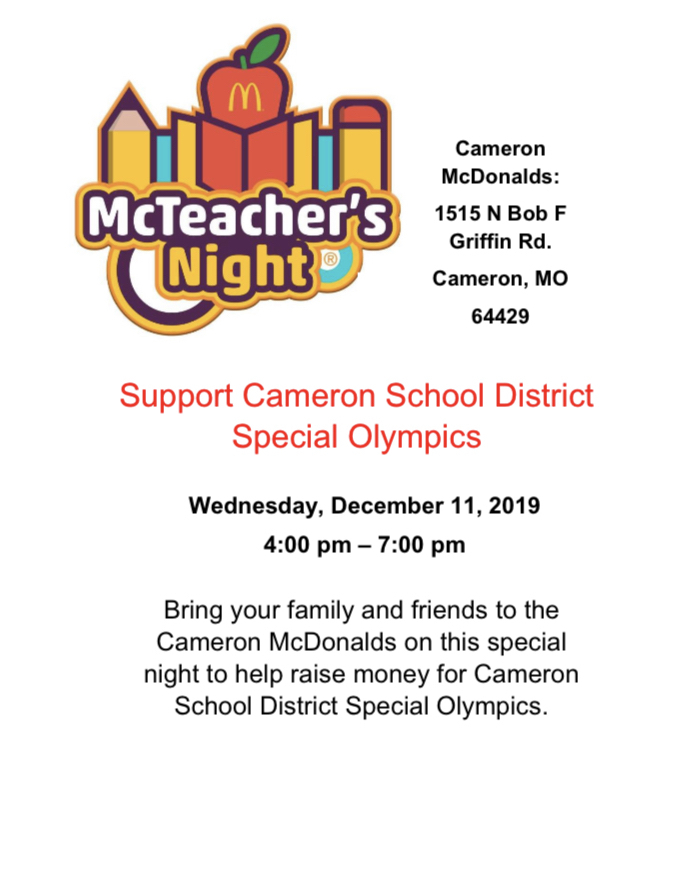 Infant/ Early Childhood Screening on November 22nd, 2019. Call to schedule an appointment.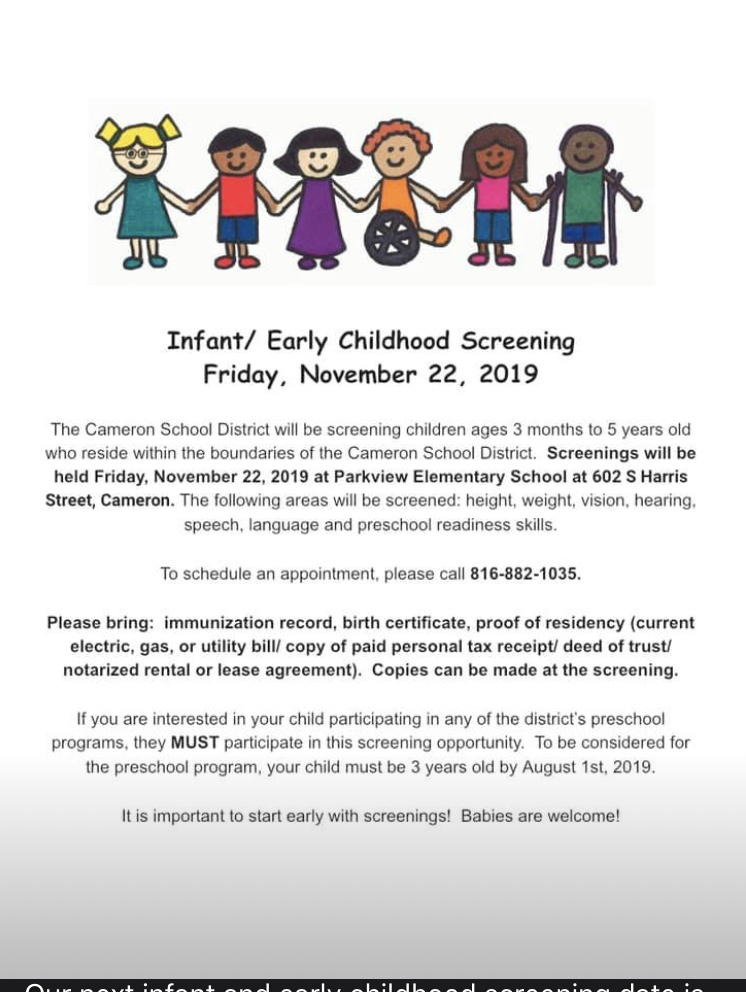 The weather is calling for cold temperatures in the morning so bundle up! Please keep an eye out for the bus. Send your student out once the bus is in view or near the stop. Questions regarding the status of your child's pick-up time can be answered by calling 816-632-2421.

The Cameron R-1 School District is accepting applications for the position of Life Skills Special Education Teacher for grades K-2 at Parkview Elementary. Applicants must possess a valid Missouri teaching certificate in the area of Special Education: Mild/Moderately Disabled (K-12). Primary responsibilities will be to provide instruction and a learning environment that will enable each student to increase skills appropriate to age, grade level, and individual capacity. The teacher will also be asked to collaborate with colleagues to meet the needs of the students, keep data on students, complete special education paperwork, and other duties as assigned. Please provide a resume and a copy of a valid teaching certificate.

Flu Shots available this Thursday, October 24th in CIS Commons from 1:30 to 7:30 pm!

MarchFest times have been moved back 1 hour due to rain. Parade will begin at 10 am. Drumline and Color Guard starts at 12 pm Field Show starts at 1 pm

Flu Shots for Cameron R-1 Students and their families When: Oct. 24 Time: 1:30 - 7:30 pm or until out of vaccine Place: CIS Commons Who: Cameron R-1 Students and their families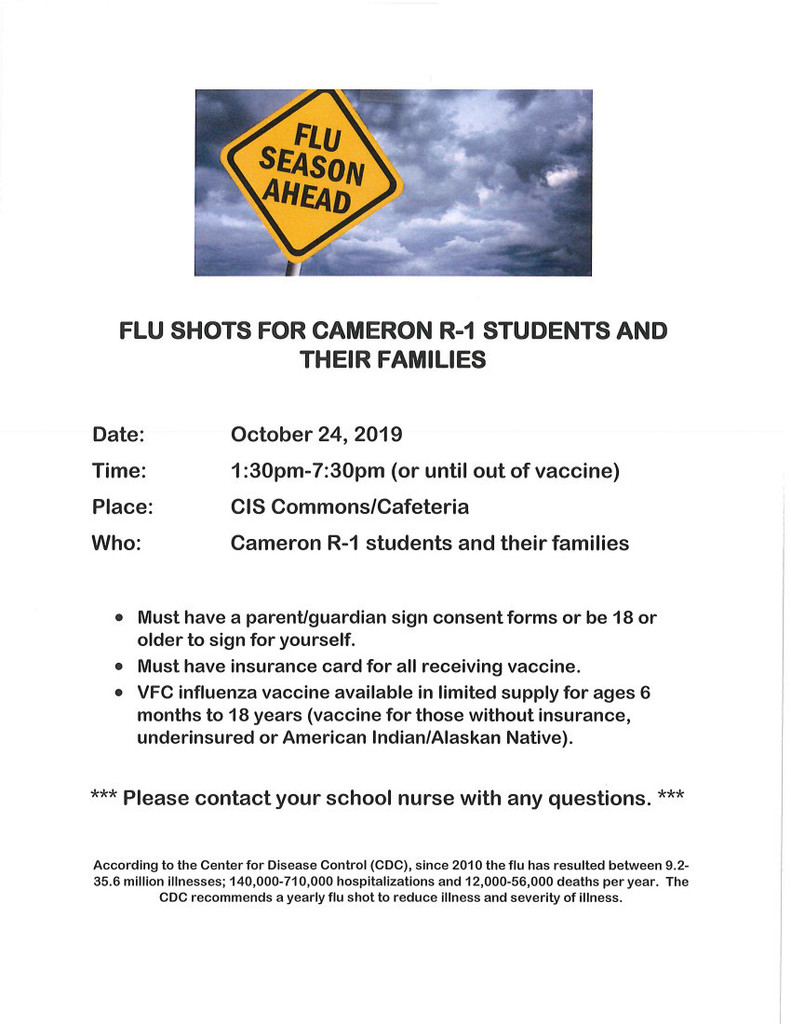 Missed last night's Community Meeting about the District's Long Range Facility Plan? Great news! There is a second meeting tonight at CVMS starting at 6 pm.

Cameron MarchFest is this weekend! Starts at 9 am with a parade through downtown Cameron Indoor Drumline/Color Guard are from 11 am to 4pm at Cameron High School (Free) Field Shows are from Noon till 5 pm at Dave Goodwin Field ($5 entry fee)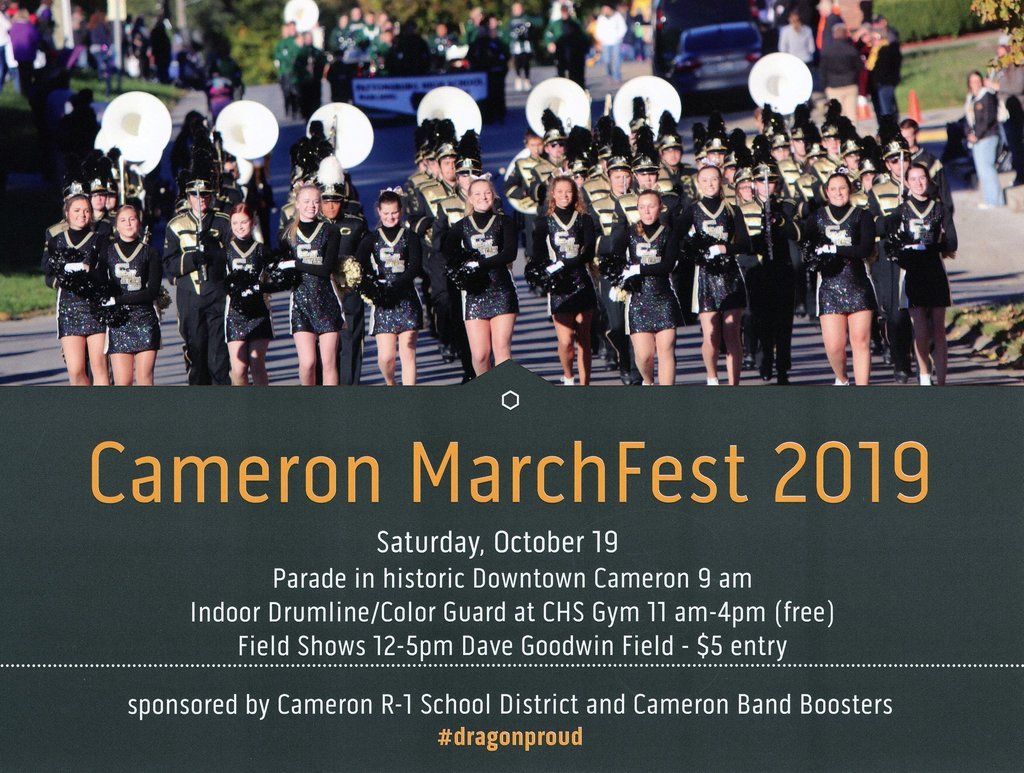 First Community Meeting for the Cameron R-1 School District Long Range Facility Plan starts at 7 pm tonight at Parkview Elementary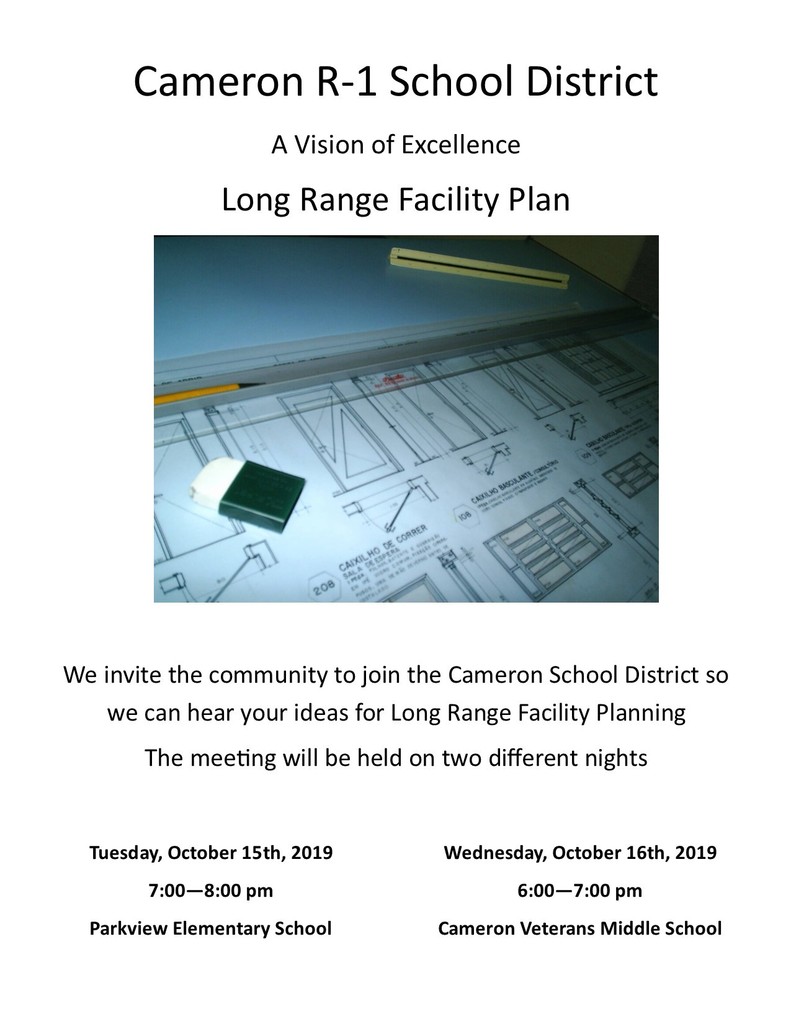 Tomorrow night at Parkview from 7 to 8 pm is the first of two meetings for community members to have their ideas heard for the District's Long Range Facility Plan.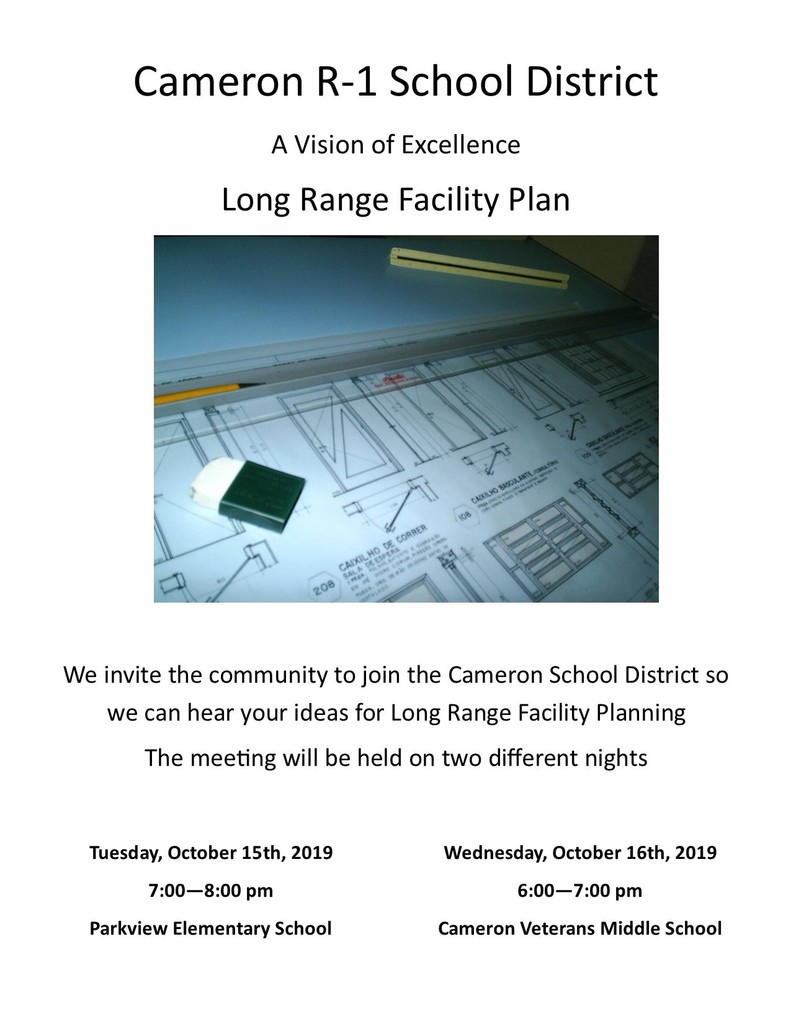 We invite the community to join the Cameron School District so we can hear your ideas for Long Range Facility Planning The meeting will be held on two different nights Tues, Oct.15: 7-8pm at Parkview Wed, Oct. 16: 6-7pm at CVMS