Calendar Update: Parkview's Preschool Family Game Night is rescheduled for March 26th, from 5:30-6:30 pm. Can't wait to see you!
School will now be in session on Monday, March 18th. This will be our rescheduled picture day for Parkview as well.
PARKVIEW EARLY DISMISSAL 2/15/19: Early buses - 12:05 pm Car Riders - 12:10 pm Regular Buses - 12:15 pm Early Childhood Screening appointments scheduled for after 11 am today will be rescheduled.
Two-hour Late Start at Parkview on Thursday, January 31st: * Buses will be running two hours late. Parkview's start time will be 9:45 am. * You CAN drop off your child after 7:30 am if needed. Students will go straight to cafeteria and will be released to classrooms at 8 am. * Breakfast will be served until 9:45 am. * No AM Preschool Classes for Miller, Virts, & Morgan. All PM Preschool will be in session. * Full-Day Preschool (Reno & Lind) will be in session with drop off available at 7:30 am. Thank you once again for your cooperation and understanding. We are excited for the warm weather in the forecast!

No school tomorrow Tuesday 1-22 for the Cameron School District because of drifting roads for our rural bus routes.
Parkview Early Dismissal Info. 1/18/19: Parkview will dismiss at the following times: Early Bus: 12:30 Car Riders: 12:40 Bus Riders: 12:45 Have a great three-day weekend! (No school on Monday, 1/21/19.
A HUGE thank you goes out to the staff at Western Missouri Correctional Center and Crossroads Correctional Center for their monetary donation to Parkview Elementary yesterday. Collectively, the staff donated $417.31 to help us purchase supplies for classroom emergency kits. Pictured here with Parkview Principals Angie Ormsby and Derek Lannigan are Chris Brewer, Deputy Warden at WMCC, and Ronda J. Pash, Warden at CRCC.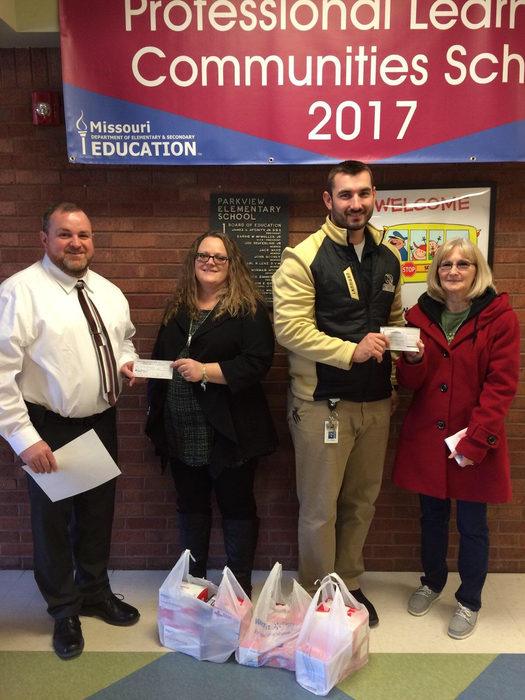 First Grade's Snowman Night is tonight, 12/17/18, from 6-7 pm in the Parkview Cafeteria. Hope to see you there!!