Preschool Field Day activities will NOT be held tomorrow due to the muddy conditions. Thank you for understanding.
Field Day Tomorrow - The current forecast for tomorrow is for sunny skies and 75 degrees. We are going to have all events on the track to avoid the rain/mud. I'm really thankful we have that beautiful, well-drained track! Parents, please park in the pool parking lot and watch from the bleachers if you are able to join us. Your child needs to wear socks, old tennis shoes, and old clothes please! Inflatables on Thursday - The current forecast has been updated to show a 40% chance of thunderstorms in the afternoon. I will keep a close eye on this and amend our inflatables schedule to make sure everyone gets to jump in the morning, if necessary. The carnival will go in the cafeteria, regardless of the weather and inflatables. If we have to cancel the inflatables, I will try to reschedule them for next week. Parents, if you were planning to attend the inflatables, I will send out a text if I have to amend the schedule. Please remember that the carnival is not open for guests due to space and supervision. Thanks for your understanding and support!!
Preschool Parents: Just a reminder that we will have Preschool Graduation on Monday, May 20th, for our students who are moving on to Kindergarten. Please plan to bring your child to the south side door (backstage) of Goodrich Auditorium at 5:45 pm. Graduation will begin at 6 pm. 🤩
ATTENTION PARENTS: The Clinton County Health Dept. has added immunization clinic dates in Cameron this summer on June 13 and 25; July 9, 11, and 23; and August 8 and 13. If your child is in need of immunizations prior to the start of the new school year, please give them a call at 816-539-2144 to make an appointment.
We are excited to see everyone tomorrow at "Parkview Family Reading Day"! Reading Times: Kindergarten: 8-8:45 am AM PreK & Lil' Dragons Prek: 8:30-9:15 am 1st Grade: 9-9:45 am 2nd Grade: 10-10:45 am PM PreK: 12-12:45 am *One guest per student please. Volunteers will be available to read in the classroom with students who do not have a family member or family friend able to attend. We look forward to seeing you!
Parent-Teacher Conferences will be held on Thursday, March 14, from 12:30-8:30 pm. We will dismiss at Parkview at the following times: Early Buses - 12:05 pm Car Riders - 12:10 pm Bus Riders - 12:15 pm Please don't forget that we do NOT have school on Friday, March 15. But we DO have school on Monday, March 18, and it's also our rescheduled picture day. Please call the office if you have any questions, (816) 882-1051. We look forward to seeing you at conferences!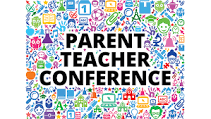 Calendar Update: Parkview's Preschool Family Game Night is rescheduled for March 26th, from 5:30-6:30 pm. Can't wait to see you!
School will now be in session on Monday, March 18th. This will be our rescheduled picture day for Parkview as well.
PARKVIEW EARLY DISMISSAL 2/15/19: Early buses - 12:05 pm Car Riders - 12:10 pm Regular Buses - 12:15 pm Early Childhood Screening appointments scheduled for after 11 am today will be rescheduled.
Two-hour Late Start at Parkview on Thursday, January 31st: * Buses will be running two hours late. Parkview's start time will be 9:45 am. * You CAN drop off your child after 7:30 am if needed. Students will go straight to cafeteria and will be released to classrooms at 8 am. * Breakfast will be served until 9:45 am. * No AM Preschool Classes for Miller, Virts, & Morgan. All PM Preschool will be in session. * Full-Day Preschool (Reno & Lind) will be in session with drop off available at 7:30 am. Thank you once again for your cooperation and understanding. We are excited for the warm weather in the forecast!

No school tomorrow Tuesday 1-22 for the Cameron School District because of drifting roads for our rural bus routes.
Parkview Early Dismissal Info. 1/18/19: Parkview will dismiss at the following times: Early Bus: 12:30 Car Riders: 12:40 Bus Riders: 12:45 Have a great three-day weekend! (No school on Monday, 1/21/19.
A HUGE thank you goes out to the staff at Western Missouri Correctional Center and Crossroads Correctional Center for their monetary donation to Parkview Elementary yesterday. Collectively, the staff donated $417.31 to help us purchase supplies for classroom emergency kits. Pictured here with Parkview Principals Angie Ormsby and Derek Lannigan are Chris Brewer, Deputy Warden at WMCC, and Ronda J. Pash, Warden at CRCC.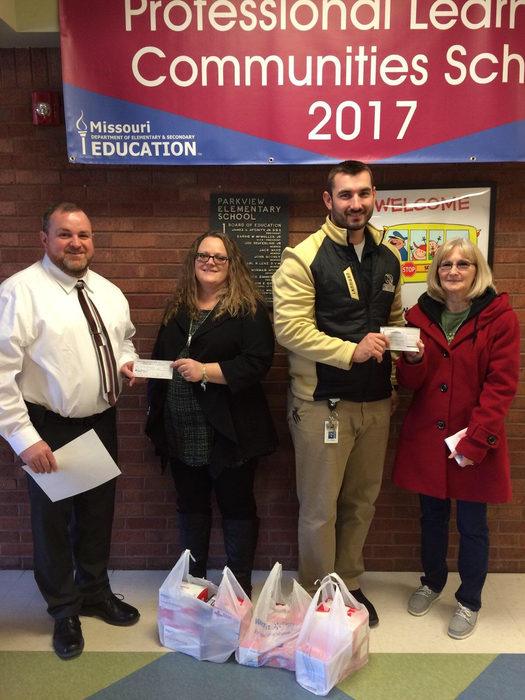 First Grade's Snowman Night is tonight, 12/17/18, from 6-7 pm in the Parkview Cafeteria. Hope to see you there!!